For my dissertation, I used qualitative methods to investigate household economic strategies in Mexican migrant families, in both sending and receiving migrant communities. Through a grounded, nuanced examination of individuals' migratory experiences, my work illuminates broader political and socioeconomic dynamics occurring at local, national, and international levels. Particularly, I examine the role that gender plays in the design and maintenance of these household economies, and how in many cases these household strategies evolve into small-sized ethnic businesses.
For my second main research project, I was involved in a collaborative project – sponsored by the USC Center for the Study of Immigrant Integration – aimed at examining the interplay between place, race, and identity in the new South Los Angeles.
Currently, my research has covered the intersection between the Central American caravan in its trek to the US-Mexican border and the US and Mexican migration policies towards the caravan as a new migration mobility strategy.
My publications have appeared in Gender & Society; Gender, Place, and Culture; Apuntes; Latino Studies Journal and Contexts.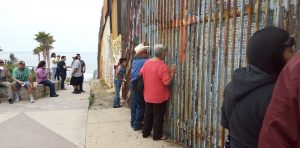 US-Mexico Border – Mexican side at Playas de Tijuana. Photo taken by Veronica Montes – June 2016
Below are some of my published articles:
Here, I share with you an interview about my current research project about the Central American caravan, which crossed Mexican territory in October and November 2018 in search of reaching the US-Mexican border: